Enrapture was founded in 2009 with the aim of providing a "customer first" approach to any project that we undertook. We know from feedback that we have been successful in this goal and intend to continue into the future. We are based in Guernsey, Channel Islands and work with clients both locally and internationally on a range of projects. We build web sites and web applications on a daily basis and are also able to look after the hosting and technical sides of running a website. With a wide range of services available, it is our aim to cover as much of a project as possible including support moving forward.
The founders are Shane Marriott and Grant Stephens. Both coming from a technical marketing background put them in a great place to offer great service that always goes beyond the scope of the project. Grant was involved in the business until 2013 when he moved on to other things.
Shane Marriott



Shane is a Founder and Director of Enrapture Ltd. In addition to the joys of building web applications, he enjoys astronomy, photography, climbing and planning big adventures.
Testimonials from people we've worked with
The Enrapture Team made our journey into developing an updated website (to bring us out of the IT dinosaur age!) extremely easy. We didn't get distracted from our day to day stuff; as they got on with the development work. Regular updates meant we kept our hand in and ensured the end result felt right to us. Their straight forward yet creative style meant we got what we wanted in a painless and fun way. A great team and would thoroughly recommend them – whether developing your first site or advancing an existing one.

Great service and enthusiasm. Was very creative and delivered the project spot on time. Nothing was too much trouble and as a result, the website was better than planned.
Our website was very old and not very inspiring to look at, so we went to see Shane at Enrapture to give us a website makeover. Our new website is fantastic and now with online booking capability!!. One of the best things is having the friendly Enrapture team still there, a few years down the line helping us to tweak and change our site when needed.
Thank you for a great website.

They took our initial brief on board completely and created exactly the website we were looking for. They kept us updated and involved at every stage, to ensure consistent and positive progress, and ensured that the site would be simple for us to maintain ourselves, keeping our future costs down. I cannot recommend Enrapture Limited's work highly enough. They deliver exactly what they promise, with the highest attention to detail and at a very reasonable price.
Shane has repeatedly proven himself a reliable, pragmatic, and expert problem solver. Able to grasp the nature of the problem and the needs of his client almost immediately, he is especially proficient at developing pragmatic solutions on the fly. Finally, he is also one of those all too rare consultants who routinely extends himself beyond expectations to produce a result that itself routinely extends beyond a project's specifications.
It was a real pleasure to work with Enrapture Ltd. on the new LOOP website. Everything came together on time, on budget and the final product exceeded my expectations. Their approach to customer service is great and they always help fix problems even if they aren't responsible.

Guernsey, Channel Islands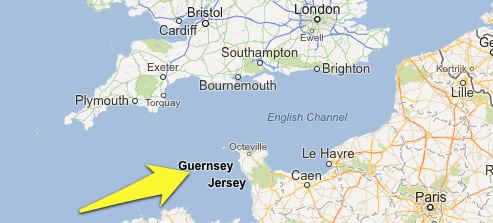 Enrapture is based in Guernsey, one of the Channel Islands located in the Bay of Saint Malo. We are just 35 miles from France and 75 miles from the UK with regular air and ferry links.
Interestingly, though we are physically closer to France than England, Guernsey is a dependency of the British Crown. In simple terms, we have our own government but the Queen is our Monarch.
---
If you are interested in our island and would like to find out more, you should visit the tourism site, VisitGuernsey. Here is a video they produced to give you a taster of what our island to offer.